Autofill drop error after edit cell
Autofill drop error after edit cell
urbanj
Posts: 20
Questions: 4
Answers: 0
Dear Alan!
The datatables autofill drop error when i begin select edited cell. (mouse down in small blue rectangle)
If I step another cell with right arrow key, and step back left arrow key, (the edited cell is active, but not editing) the select is good and autofill is runing.
Uncaught TypeError: Cannot read property 'offsetParent' of undefined
at AutoFill._getPosition (dataTables.autoFill.js:606)
at AutoFill._drawSelection (dataTables.autoFill.js:397)
at AutoFill._mousedown (dataTables.autoFill.js:662)
at HTMLDivElement.<anonymous> (dataTables.autoFill.js:170)
at HTMLDivElement.dispatch (jquery-latest.js:1549)
at HTMLDivElement.r.handle (jquery-latest.js:1489)
the error is _getPosition: function, currOffsetParent = $( currNode[0].offsetParent ); line, because the currNode will emty object after parrent is nothing.
You use back tested cycle:
do{..
currOffsetParent = $( currNode[0].offsetParent )
...
currNode = currOffsetParent;
...
} while ( currOffsetParent.get(0) !== targetParent.get(0))
This run when currOffsetParent.get(0) !== targetParent.get(0) because You set currNode the parentNode, and the parrentNode nothing, the next cycle run will drop this error.
I use editor, scroller, button, selector, keytable, fixed column and autofill, and I use server side, and not use pager.
And the second problem:
After the autofill is runing, (no error, and selected cell is replaced) the selected cell box is active and drop same error, wheni not change to another column.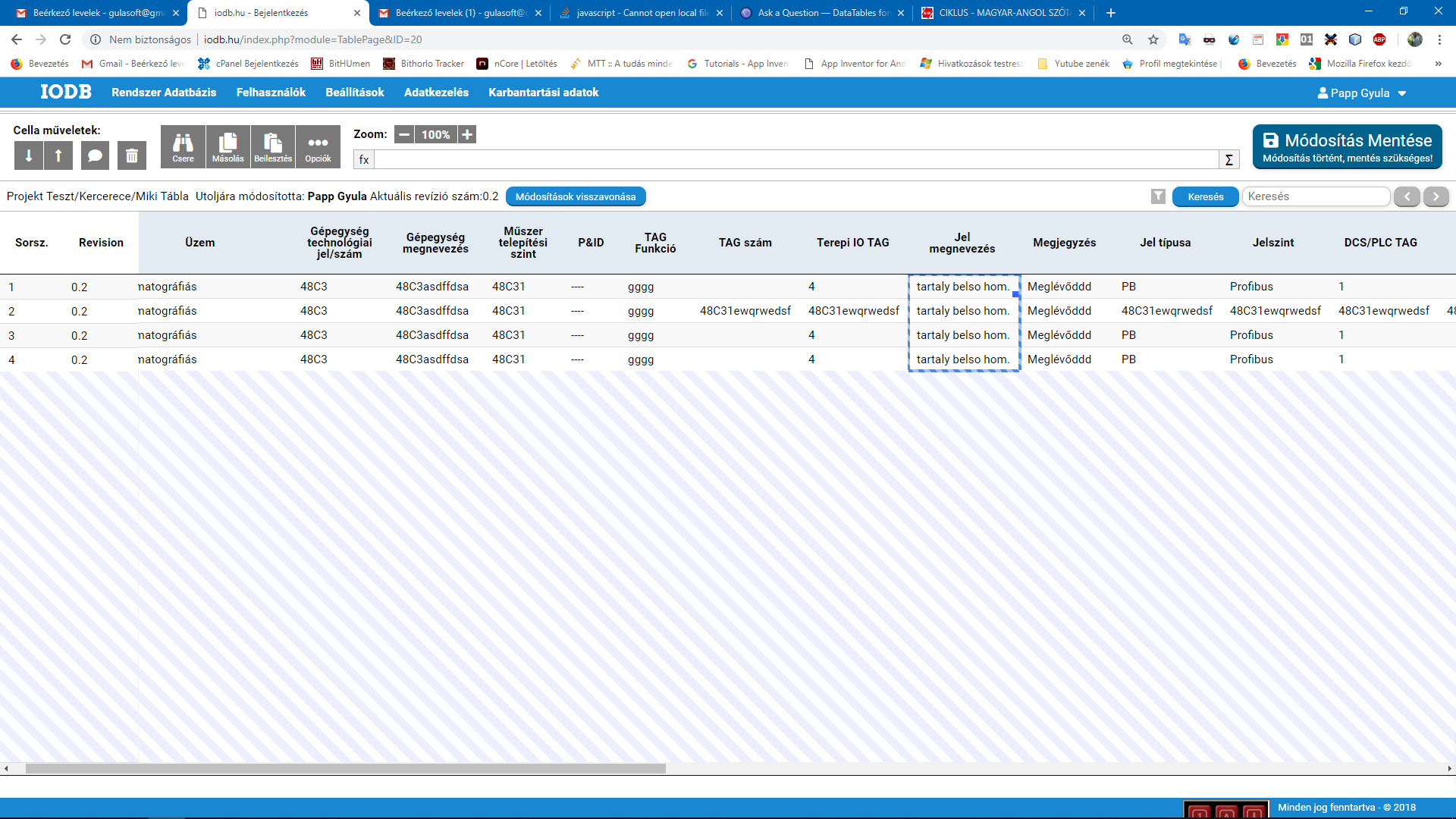 If i change another column the select is will good, the previously selected box is nothig, and no drop error.
Any idea? (I use too many extension, and they will problem?)
I not can make sample program, because i use server side select own php , and i use mysql 8 json field to store data.