Datatables or postgresql bug?
Datatables or postgresql bug?
esmurf
Posts: 29
Questions: 4
Answers: 0
Hi y'all,
This might not be a Datatables/Editor problem, but hopefully someone had the same problem..
My project worked perfectly, but after I updated my computer (using linux parrot), something went wrong...
I'm getting invalid Jsom error, with the following output: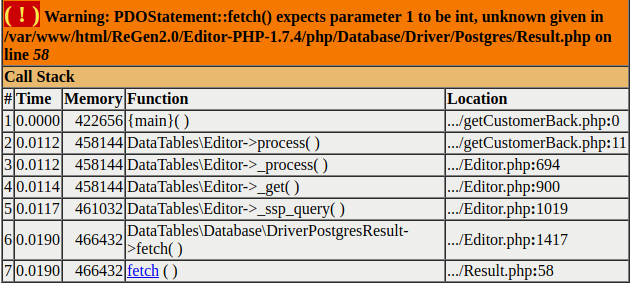 I've tried to solve it, but have no clue what so ever..
I do have a hunch that it might have something to do with Postgresql, which I'm using in my project.
If i disable my ajax call, which is also serversided, then it works but with no data ...
Does any1 know how to fix this?
Regarding the error line in /var/www/html/ReGen2.0/Editor-PHP-1.7.4/php/Database/Driver/Postgres/Result.php on line 58, is the following:


It does say "Method 'fetch' not found..." but I haven't done anything to any of the default Datatables/Editor files.....
It overrides the following method, if it helps


I truly hope someone can help.... I'm loosing my mind..
Kind regards Esmurf!
This discussion has been closed.