How can I get ASP.NET C# to load AJAX json data returned from the server?
How can I get ASP.NET C# to load AJAX json data returned from the server?
gbison
Posts: 3
Questions: 1
Answers: 0
Hello all,
My first time to these forums and Datatables. I'm new to all of the web development, but not programming. I was creating a project to help acclimate myself to data presentation and database work in ASP.NET, simply using SQLite and originally the Gridview control and I was successful in this attempt. Now, I have opted to try Datatables since its format looks very robust.
However, I cannot get anything to work that's derived from Ajax as prescribed from the online examples. I can create a basic array and feed it from static data, but what I would like to do is extract a dataset from my SQLite DB, which I have done, convert that into a JSON string and provide access to it through a web method return ( Default.apsx/GetJson ). I have all of this working, even went so far as writing a file to the server side with the JSON output that's being passed back to the client. Checked with JSONLINT to validate that the output was legitimate JSON, and it passed (the actual JSON file output is attached).
I set up alerts and error callbacks for the AJAX using the data tables implementation and then using my own ajax implementation and feeding it to Datables as a source, again, I'm at my wits end here as I see no solution to getting this to work with ASP. NET and AJAX under these circumstances. I'm usually pretty adept at researching this and figuring things out on my own, but my frustration is about to get the best of me and I feel I have to be missing something. So as a last ditch effort to continue working with Datatables I'm asking for some guidance here...
Below is the code I'm currently using to retrieve the data on the client side, you should know that the alert in success callback fires and the alert displays the valid JSON (also in the image) and that no error call back ever fires. Everything seems to work successfully.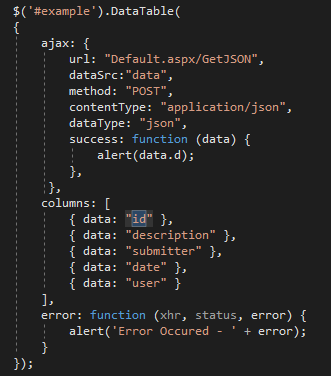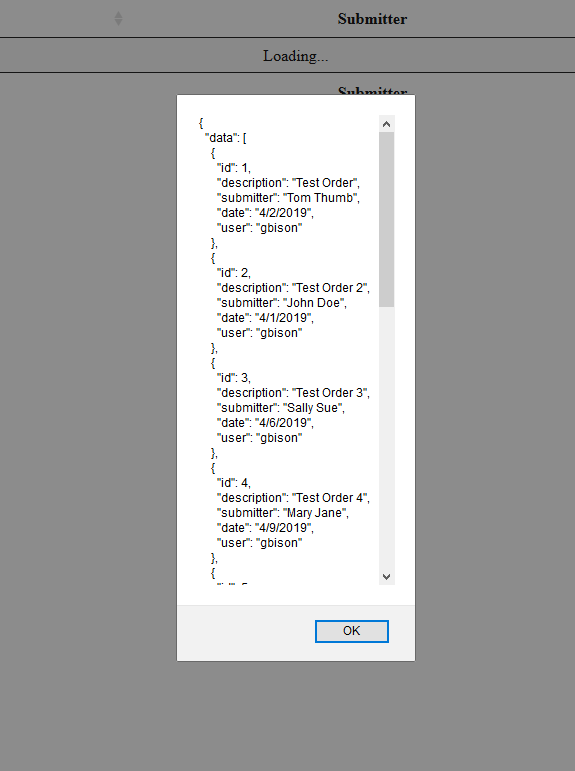 Here is the C# for those of you interested in seeing how the web method is set up.

Here is the C# that gathers the data this web method calls.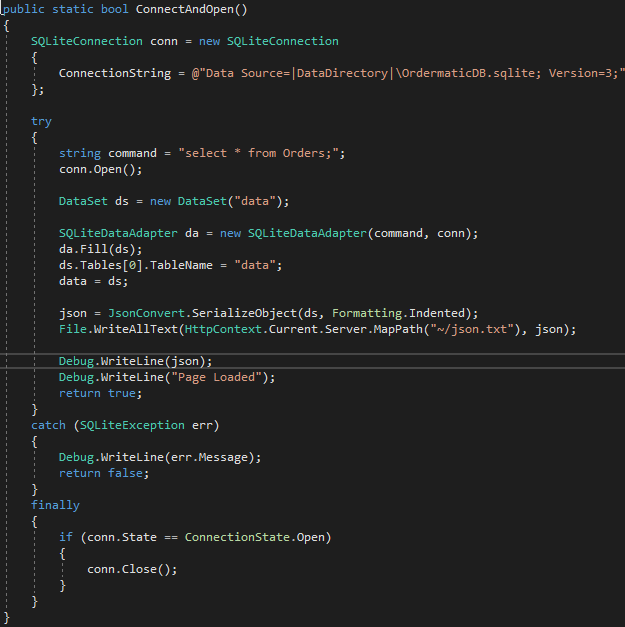 I would certainly appreciate any guidance you can provide about what's wrong because I'm not getting any errors, everything appears to work, yet the Datables page simply says "Loading..." but never populates the data.

Thanks,
Bryan
This discussion has been closed.