Incorrect header width for scrollable table in IE11
Incorrect header width for scrollable table in IE11
VolodymyrK
Posts: 12
Questions: 2
Answers: 0
Hi,
After migrating from version 1.10.25 to version 1.11.3 I'm observing problems with column header width in Internet Explorer 11.
The related table are created using 'scrollY: 200'. As result table header and body are two different tables in DOM and datatables provides some calculations to make header table and body table columns width equal.
But, after the migration I can see next:
Expected result
Header table columns and body table columns width should be equal.
Actual result
Corresponding columns from header and body table might have different width


Currently, it hard to me to reproduce it outside my environment but it seems that the issue depends on cell contents. For me it reproduced for some columns with icons or checkboxes(Perhaps it depends on inner content size, padding or other attributes).
By looking on datatables changes I would say that the current situations is triggered by next changes:


As we can see:
In version 1.10.25:
Column width has been calculated using **'$(nSizer).css('width')' **expression
In version 1.11.3
Column width is calculated using
'window.getComputedStyle(nSizer).width' expression if window.getComputedStyle is supported by browser or
using '$(nSizer).width()' expression in other case.
Second expression is used for my case as window.getComputedStyle doesn't implemented for IE11.
And from what I can see that the second '$(nSizer).width()' might give different result than window.getComputedStyle method.
I've tried to debug results from old and two new expressions, and I see next results for my example for the column with width 39px:
1. Old expression '$(nSizer).css('width')' gives 39px
2. window.getComputedStyle also gives 39px
3. But for '$(nSizer).width()' gives 13px which isn't correct value.
After that incorrect value is assigned to body table header: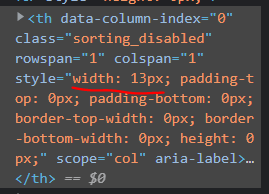 And then it looks like header table use this incorrect value to adjust its width and it gives us the resulted behavior with different column size described above.
So, it looks that problem is in using '$(nSizer).width()' expression which could return different result than window.getComputedStyle.
Hence this situation could affect any browser where window.getComputedStyle isn't implemented.
So, for me it looks that width() method isn't reliable enough her to use it for column width calculation.
Can we consider this situation as a regression bug?
Could this situation be fixed by using '$(nSizer).css('width')' expression instead of the '$(nSizer).width()' to return previous cross-browser behavior?
Cause, as I observe in my case '$(nSizer).css('width')' and window.getComputedStyle always gives the same result but '$(nSizer).width()' according to cell content might returns different result.
Or, perhaps you could suggest alternative solution.
Best Regards