Potential Bugs: DT 1.11.4 - ColReorder 1.5.5 - Select 1.3.4
Potential Bugs: DT 1.11.4 - ColReorder 1.5.5 - Select 1.3.4

rf1234
Posts: 2,708
Questions: 82
Answers: 392
Just a few days ago I downloaded new sources from the Download Builder. In particular I migrated from
- DT 1.10.21 to 1.11.4
- ColReorder 1.5.2 to 1.5.5
- Select 1.3.1 to 1.3.4
- Editor (with PHP Backend): 1.9.3 to 2.0.6
I had a couple of problems that I could only resolve by turning off "ColReorder" and "stateSave". Another issue regarding RowCallback I coulnd't resolve at all.
COLREORDER:
I used the Chrome debugger and saw that the child data table is simply "undefined". The parent and child tables should be run on page load. They are not wrapped into functions. Just like in this example which had been my starting point: https://datatables.net/blog/2016-03-25
That is the message in the console:


Under "sources" I see this in Chrome:


Which is caused here because table() is read from an empty object:


Called from here:


Getting rid of ColReorder solved the problem for me.
STATESAVE:
I noticed that the "deselect" event was triggered on page load which didn't happen before. This lead to an attempt to reload a couple of child data tables which partly didn't exist yet.
This time there is nothing in the console but I can see everything relevant under "sources".
Something undefined is passed to this function ("Cannot read properties of undefined"):


It is called from here. The last two tables passed were "undefined". What puzzles me really is that "deselect" is triggered on page load.


If I look at the code of the DT select extension version 1.3.4 I see that the code executes a "deselect()" when loading the state. This of course triggers my dt event handler - and I end up having my "on deselect" code executed on page load:
Solution: turn off state saving!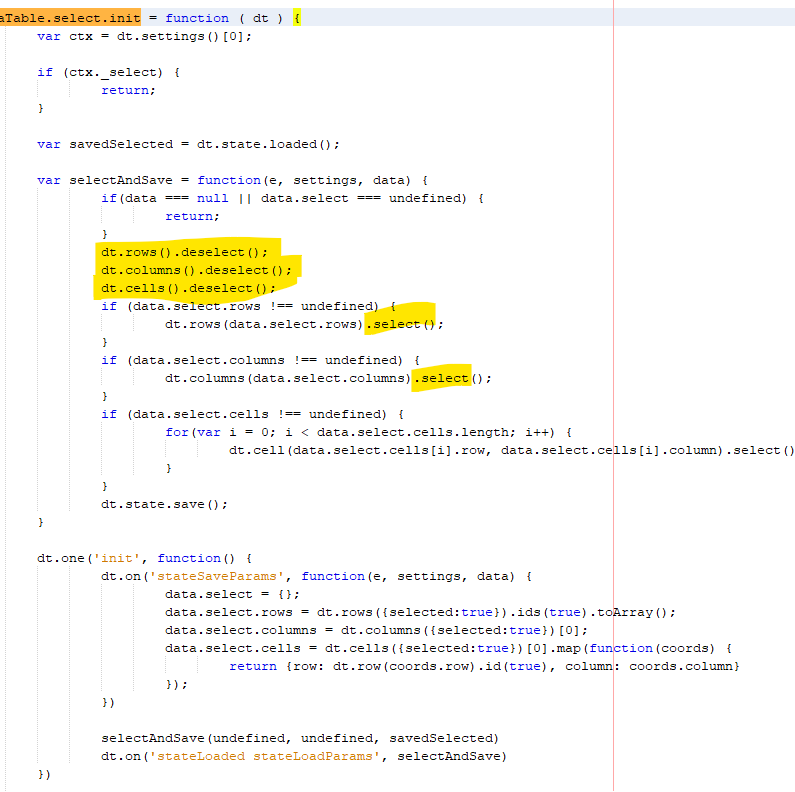 I will open another thread for the rowCallback problem.