Datatable responsive problem with Grid layout
Datatable responsive problem with Grid layout
rge75
Posts: 14
Questions: 1
Answers: 0
I encountered display problems in Firefox when I'm using a grid layout. I created a test file where I only placed one grid element.
As you can see, it creates a horizontal scrollbar instead of hiding another column.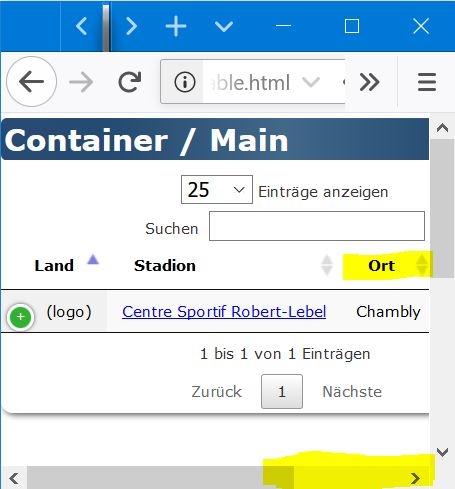 Even IE does it correct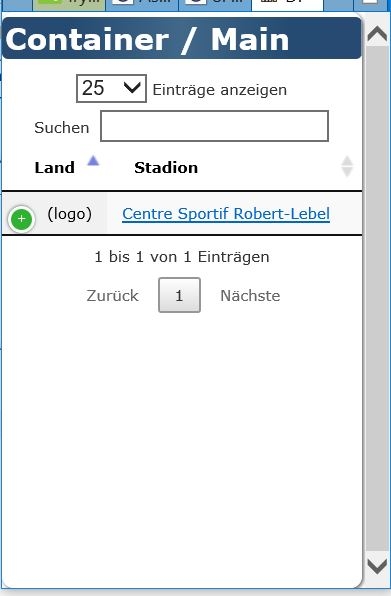 You can test it yourself at
http://2019.hockeyarenas.net/DataTable.html
The "full" file is here (page still under development though) which works fine unter Chrome, but not under Firefox (IE grid not yet implemented, therefore not working on IE):
http://2019.hockeyarenas.net/?page=0300&lang=en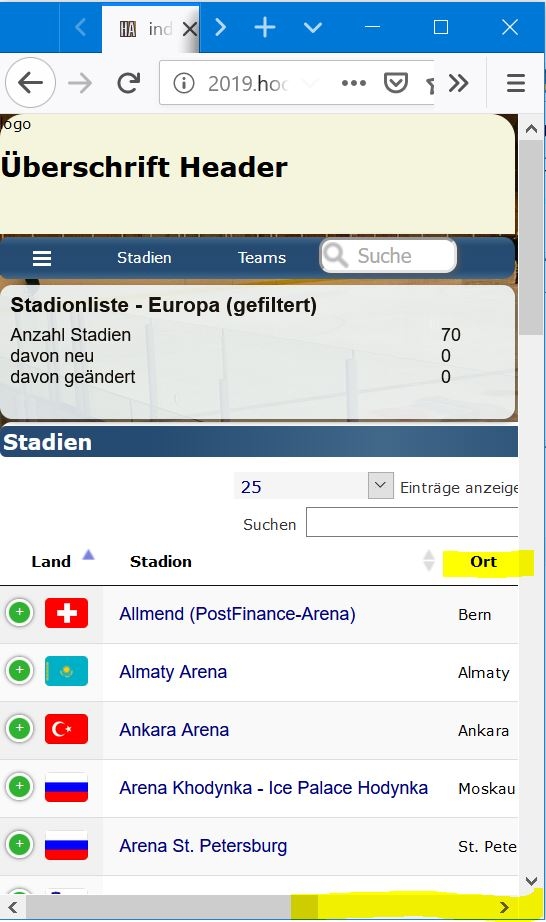 As you can see, the table content is too wide (wider than all the other grid elements).
Any idea how to overcome/fix this problem?
css of the test file
    @charset "utf-8";
    Body { 
        font-family: verdana, arial, helvetica, sans-serif;
    }
    .titlebar_right {
        color: white;
        margin: 0px 0px 10px 0px; 
        padding: 2px 2px 2px 2px;
        background: rgb(39,74,114);
        background: -webkit-gradient(linear, left top, right top, from(rgba(39,74,114,1)), color-stop(20%, rgba(37,75,114,1)), color-stop(50%, rgba(65,104,137,1)), color-stop(80%, rgba(37,75,114,1)), to(rgba(39,74,114,1)));
        background: -o-linear-gradient(left, rgba(39,74,114,1) 0%, rgba(37,75,114,1) 20%, rgba(65,104,137,1) 50%, rgba(37,75,114,1) 80%, rgba(39,74,114,1) 100%);
        background: linear-gradient(90deg, rgba(39,74,114,1) 0%, rgba(37,75,114,1) 20%, rgba(65,104,137,1) 50%, rgba(37,75,114,1) 80%, rgba(39,74,114,1) 100%); 
        border-radius: 4px;
    }     

    main {
        display: block;
        -ms-grid-row: 1;
        -ms-grid-column: 1;
        grid-area: content;
        background-color: white;
        border-radius: 8px;
        -webkit-box-shadow: 1px 1px 4px 0 #595959;
          box-shadow: 1px 1px 4px 0 #595959;     
        padding: 3px 0px 3px 0px;    
    }

    body {
        margin-left : 0px;
        margin-right: 2px;
        margin-bottom : 2px;
        margin-top : 0px;    
        font-size: 10px;    
    }
    
    .container {
      display: -ms-grid;
      display: grid; 

          grid-template-areas:
        "content";    

      -ms-grid-rows: auto;    

      grid-template-rows: auto; 
      -ms-grid-columns: 1fr; 
      grid-template-columns: 1fr; 
      grid-gap: 2px;

      height: 100vh;    
    }

HTML of the test file
<!DOCTYPE html>
<html>
  <head>
    <meta name="viewport" content="width=device-width, initial-scale=1.0" />

<meta http-equiv="content-type" content="text/html;charset=utf-8">
        
<link href="inc/v4_css/style_v2_datatables_test.css" rel="stylesheet" type="text/css">
<link rel="stylesheet" type="text/css" href="https://cdn.datatables.net/1.10.19/css/jquery.dataTables.min.css">
<link rel="stylesheet" type="text/css" href="https://cdn.datatables.net/responsive/2.2.3/css/responsive.dataTables.min.css">
 <TITLE>DataTable Test</TITLE>
<script type="text/javascript" language="javascript" src="https://code.jquery.com/jquery-3.3.1.js"></script>
<script type="text/javascript" language="javascript" src="https://cdn.datatables.net/1.10.19/js/jquery.dataTables.min.js"></script>
<script type="text/javascript" language="javascript" src="https://cdn.datatables.net/responsive/2.2.3/js/dataTables.responsive.min.js"></script>
          
<script type="text/javascript">      
    $(document).ready(function() {

        $('#arenas').DataTable( {
                    aLengthMenu: [[10, 25, 50, 100], [10, 25, 50, 100]],
                    iDisplayLength: 25,
                    language: {
                        url: '/inc/DataTables/de.txt'
                    },
                    responsive: true 
                } );
    } );           
</script>                
</head>
    <body>
        <div class="container">
            <main>
                <h1 class="titlebar_right"><span class=''>Container / Main</span></h1>
                <table class='display nowrap' id='arenas' style='width: 100%;'>
                    <thead>
                        <tr>
                            <th data-priority="1">Land</th>
                            <th data-priority="1" class="word_break"><div align="left">Stadion</div></th>   
                            <th data-priority="3"><div align="left">Ort</div></th>
                            <th data-priority="4"><div align="left">Team</div></th>
                            <th data-priority="2">Kapazität</th>
                            <th>Bau</th>
                            <th></th>
                    </tr></thead><tbody>
                    <tr>
                        <td>(logo)</td>
                        <td><a href="?page=3000&arID=4362" target="_parent" >Centre Sportif Robert-Lebel</a></td>
                        <td>Chambly</td>
                        <td></td>
                        <td>
                            <div align="right">
                                1'200</div>
                        </td>
                        <td>
                            <div align="right">
                                1972</div>
                        </td>
                        <td>
                            <div align="right">
                                </div>
                        </td>
                    </tr>
                </table>
            </main>
        <div class="container">
    </body>
</html>