is DT Editor &with BS 4.x compatible with AdminLte 3.x
is DT Editor &with BS 4.x compatible with AdminLte 3.x

latheefp
Posts: 10
Questions: 2
Answers: 0
I am not getting below window while trying to edit the row by simulating the same data from your site hosting locally.
but, i am not able to lick the X button to close the modal. i need to press Esc to get it cancelled.
can i do some kind of library inclusion to fix it.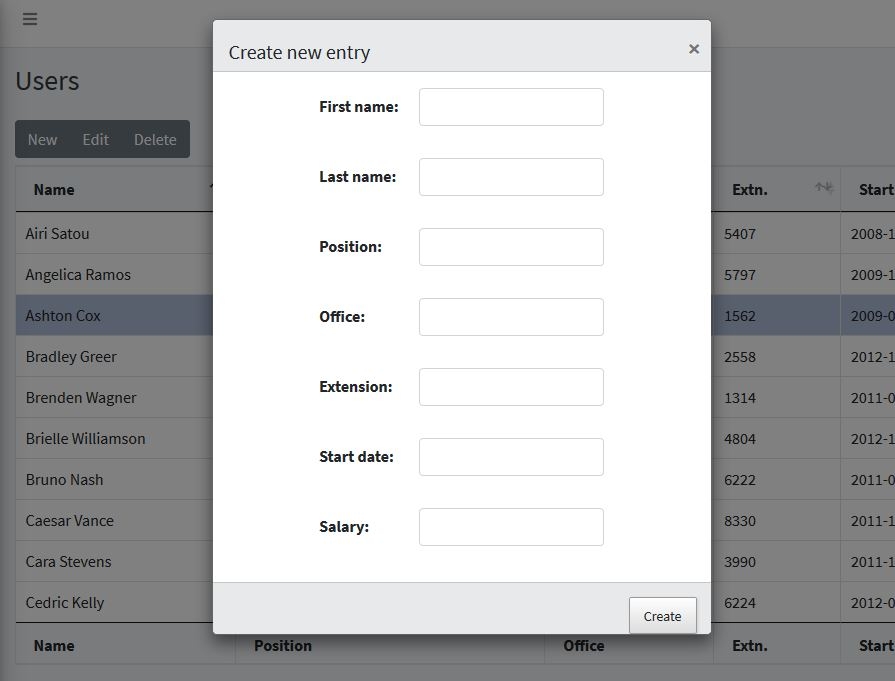 below are my js and css.
<    !-- jQuery -->
    <script src="/plugins/jquery/jquery.min.js"></script>
    <!-- jQuery UI 1.11.4 -->
    <script src="/plugins/jquery-ui/jquery-ui.min.js"></script>
    <!-- Resolve conflict in jQuery UI tooltip with Bootstrap tooltip -->
    <script>
      $.widget.bridge('uibutton', $.ui.button)
    </script>
    <!-- Bootstrap 4 -->
    <script src="/plugins/bootstrap/js/bootstrap.bundle.min.js"></script>
    <!-- ChartJS -->
    <script src="/plugins/chart.js/Chart.min.js"></script>
    <!-- Sparkline -->
    <script src="/plugins/sparklines/sparkline.js"></script>
    <!-- JQVMap -->
    <script src="/plugins/jqvmap/jquery.vmap.min.js"></script>
    <script src="/plugins/jqvmap/maps/jquery.vmap.usa.js"></script>
    <!-- jQuery Knob Chart -->
    <script src="/plugins/jquery-knob/jquery.knob.min.js"></script>
    <!-- daterangepicker -->
    <script src="/plugins/moment/moment.min.js"></script>
    <script src="/plugins/daterangepicker/daterangepicker.js"></script>
    <!-- Tempusdominus Bootstrap 4 -->
    <script src="/plugins/tempusdominus-bootstrap-4/js/tempusdominus-bootstrap-4.min.js"></script>
    <!-- Summernote -->
    <script src="/plugins/summernote/summernote-bs4.min.js"></script>
    <!-- overlayScrollbars -->
    <script src="/plugins/overlayScrollbars/js/jquery.overlayScrollbars.min.js"></script>
    <!-- AdminLTE App -->
    <script src="/js/adminlte.js"></script>
    <!-- AdminLTE dashboard demo (This is only for demo purposes) -->
    <script src="/js/pages/dashboard.js"></script>
    <!-- AdminLTE for demo purposes -->
    <script src="/js/demo.js"></script>
    
    <script src="/plugins/toastr/toastr.min.js"></script>

<!-- //DataTables-->

 <script  src="/plugins/DataTables/datatables.min.js"></script>
 
  <!--<script src="/plugins/DataTables/DataTables-1.10.21/js/jquery.dataTables.min.js"></script>-->
 <script src="/plugins/DataTables/Select-1.3.1/js/select.bootstrap4.js"></script>
 <!--<script src="/plugins/DataTables/Buttons-1.6.3/js/dataTables.buttons.min.js"></script>--> 
 
 <script src="/plugins/DataTables/Buttons-1.6.3/js/buttons.bootstrap4.min.js"></script>
 <script src="/plugins/DataTableEditor/js/dataTables.editor.js"></script>
 <script src="/plugins/DataTableEditor/js/editor.bootstrap4.min.js"></script>



CSS: 

    <link rel="stylesheet" href="/plugins/fontawesome-free/css/all.min.css">
      <!-- Ionicons -->
      <link rel="stylesheet" href="https://code.ionicframework.com/ionicons/2.0.1/css/ionicons.min.css">
      <!-- Tempusdominus Bbootstrap 4 -->
      <link rel="stylesheet" href="/plugins/tempusdominus-bootstrap-4/css/tempusdominus-bootstrap-4.min.css">
      <!-- iCheck -->
      <link rel="stylesheet" href="/plugins/icheck-bootstrap/icheck-bootstrap.min.css">
      <!-- JQVMap -->
      <link rel="stylesheet" href="/plugins/jqvmap/jqvmap.min.css">
      <!-- Theme style -->
      <link rel="stylesheet" href="/css/adminlte.min.css">
      <!-- overlayScrollbars -->
      <link rel="stylesheet" href="/plugins/overlayScrollbars/css/OverlayScrollbars.min.css">
      <!-- Daterange picker -->
      <link rel="stylesheet" href="/plugins/daterangepicker/daterangepicker.css">
      <!-- summernote -->
      <link rel="stylesheet" href="/plugins/summernote/summernote-bs4.css">
      
      <link rel="stylesheet" href="/plugins/toastr/toastr.min.css">
      
      
      <!--//DataTables-->
    
       <link rel="stylesheet" href="/plugins/DataTables/datatables.min">
       <link rel="stylesheet" href="/plugins/DataTables/DataTables-1.10.21/css/dataTables.bootstrap4.min.css">
       <!--<link rel="stylesheet" href="/plugins/DataTables/FixedColumns-3.3.1/css/fixedColumns.bootstrap4.min.css">--> 
        <!--<link rel="stylesheet" href="/plugins/DataTables/Select-1.3.1/css/select.bootstrap4.min.css">--> 
        <link rel="stylesheet" href="/plugins/DataTables/Buttons-1.6.3/css/buttons.bootstrap4.min.css"> 
        <link rel="stylesheet" href="/plugins/DataTables/DataTables-1.10.21/css/jquery.dataTables.min.css"> 
        <link rel="stylesheet" href="/plugins/DataTableEditor/css/editor.dataTables.min.css"> 
        <link rel="stylesheet" href="/plugins/DataTableEditor/css/editor.bootstrap4.min.css">  

Edited by Kevin:  Syntax highlighting. Details on how to highlight code using markdown can be found in this guide