Datatables 1.10.4 - row not aligned anymore when expanded
Datatables 1.10.4 - row not aligned anymore when expanded
Bibichee
Posts: 2
Questions: 1
Answers: 0
Hey all,
I've a problem with using Datatables 1.10.4.
I work on a table of risk wich could contains another one if there is an Action linked to that risk. If there is a action, you can expand the row to show the sub table action.
When i try to expand my table using Firefox there is no problem. But when i do it using Chrome, all my row width's are modified and my table is broken.
Let me show you:
Firefox collapsed row


Firefox expanded


Everything is ok, all rows/columns are inline as i wish.
This is what i get when i'm using Chrome:
Chrome collapsed


Chrome expanded (PROBLEM)


More of 4 or 5 rows are not aligned as they were before i expand and show the sub row.
This is all the extensions i use with DataTables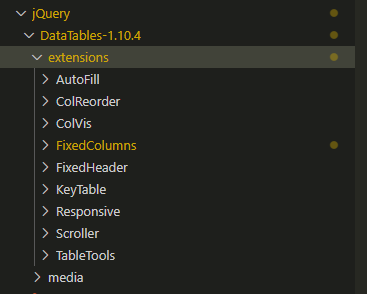 Any help will be appreciated. Thanks